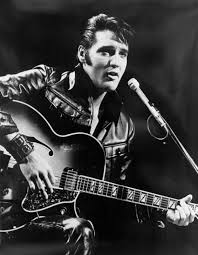 THE ELVIS MUSIC 4 EVER RADIOSHOW

Our special radio show 'THE ELVIS MUSIC 4 EVER RADIOSHOW' is presented by DJ Aquarius with the intention to keep this world famous singer/songwriter forever in everybody's minds.
Elvis Presley (January 8, 1935– August 16, 1977), also known simply as Elvis, was an American singer, musician and actor. He is often referred to as the "King of Rock and Roll" or simply "the King".
Presley was born in Tupelo, Mississippi, and relocated to Memphis,Tennessee with his family when he was 13 years old. His music career began there in 1954, recording at Sun Records with producer Sam Phillips - Presley, on rhythm acoustic guitar, and accompanied by lead guitarist Scotty Moore and bassist Bill Black, was a pioneer of rockabilly, an uptempo, backbeat-driven fusion of country music and rhythm and blues.
With his rise from poverty to significant fame, Presley's success seemed to epitomize the American Dream. He is the best-selling solo music artist of all time, and was commercially successful in many genres, including pop, country, R&B, adult contemporary, and gospel.
Broadcast time =

BROADCASTED EVERY SATURDAY, RANDOM IN THE ACTUAL PLAYLIST.

see above in time box for actual hour and timing difference with your own time zone.